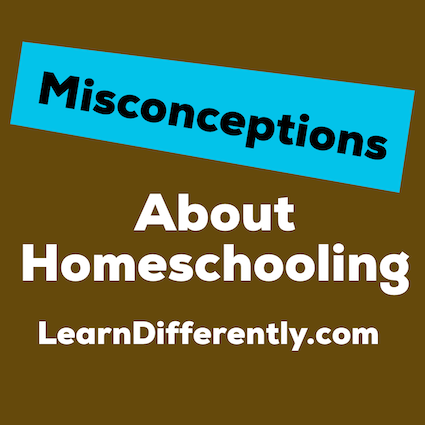 by Kathy Kuhl
What misconceptions keep parents from enjoying homeschool: a customized education for their kids and teens with ADHD and other learning challenges?
(From a recent talk for CHADD of Northern Virginia/Washington DC.
Link to the talk and resources for the curious are below.)
The other day, my neighbor told me she is so glad her four girls are back in school. "I could never homeschool," she declared. "It was so hard keeping them on task."
"But, I answered, "homeschooling would be completely different. You would choose the materials, activities, and schedule."
She looked surprised, and said, "Oh! Yes, it would."
In fact, I'd say that, as hard as she worked, my neighbor has not homeschooled yet. What she did was in some ways harder, certainly less interesting for her and less engaging for her kids.
Because of the pandemic, millions of parents may think they've tried homeschooling. But real homeschooling is quite different.
Homeschooling is parent-directed education. The American Heritage Dictionary defines the verb homeschool as "to instruct in an educational program outside of established schools." The US Census Bureau's Household Pulse Survey counted "true homeschooling, rather than virtual learning through a public or private school."*
Let's correct some common misconceptions about homeschool:
Homeschool doesn't mean you have to stay home.
More than one mom has joked that they aren't homeschooling so much as "car-schooling," because they're so busy going to group classes and activities.I don't recommend spending much time with your ADHD child in your car. But homeschoolers are resourceful. They use car time to listen to recorded books, play educational games, practice Latin declensions or math facts, and more.
I know parents who homeschooled while on long sailing voyages or traveling around the world. Two homeschooled teens I know got their pilots licenses at age 16.
Hands-on learning is great for distractible students and getting out and doing brings lessons to life. As a former public-school teacher, I know that field trips are much easier when you don't have to supervise 100 kids and book a school bus.
So as homeschoolers, we averaged one field trip a month as we homeschooled in the elementary school years. We went out other days for Spanish club, karate lessons, swimming, soccer, and homeschool group classes.
Every family must find their own pace, though. Even extroverts with ADHD need time at home and a regular schedule to make progress.
But homeschoolers don't stay home.
Homeschool doesn't mean parents personally teach every subject.
The parent can be the facilitator of the child's education. They outsource some classes—especially for high school. There are co-ops, homeschool group classes in person and online, video lessons, and tutors who can help with subjects that the parents don't want to teach.
Homeschoolers also pool their resources. When my son was finishing 8th grade, I asked a friend what she was doing for her son's 9th She was a registered nurse and said she was teaching him. She told me which curriculum she'd chosen and she offered to teach my son, too, if I'd teach them both English. A tiny coop was born. Boys from two other families joined us. The foursome learned a lot, worked hard, and had fun.
That 4-to-1 student teacher ratio helped my distractible son focus. Researchers in education measure "Academic Engaged Time"–how much time students are engaged–to measure the effectiveness of education. It's a lot harder to be unengaged in the small classes homeschool groups usually have. Great for our students with ADHD.
You don't have to teach everything.
Homeschool doesn't need to look like school.
I interviewed 64 families homeschooling children with ADHD, learning disabilities, and/or autism before I wrote my first book, Homeschooling Your Struggling Learner.One of those parents pointed out, "When you are trying to duplicate the school environment in a home, keep in mind that it didn't work in school; that's why he's at home. Duplicating that environment may bring negative emotions."
You don't have to replicate your school experience. Do what works.
The fourth misconception is that homeschoolers are weird.
Well, most of us aren't. (Admit it, you may have met some unusual folks at the PTA, right? I did when I was a PTA leader.)
Homeschoolers differ tremendously. I've met homeschoolers of all types, backgrounds, religions and philosophies, and ethnicities. There are Muslim homeschool groups, Jewish homeschool curriculum, Catholic homeschool conferences, pages for Hindu homeschoolers, Pagan homeschool groups, and plenty of groups open to all.Homeschoolers do have a few things in common. They care deeply about education—just like their neighbors leading the PTA. And homeschoolers don't mind being a little different.
The most common misconception is that homeschooled kids are unsocialized.
There are many homeschool groups across the country. Homeschool classes and group activities about in my home, the Washington DC area.
One homeschool mom in North Carolina admitted, "Yes, socialization is a problem. We have too much of it!" Planning and driving for her children and teens kept her busy.
As I homeschooled, I found I could coach my child in social skills better because I saw more of the interactions. I wasn't with him constantly, but sometimes I saw what social cues my kid was missing.
Some parents roleplay to help their kids practice skills they need. If you have a child with social skills deficits, you can join groups and make social skills training part of your homeschool.
As a child, your teachers probably said, "We're not here to socialize." They were right. And for kids to struggle to learn, classmates can be a huge distraction when trying to tackle academic subjects.
Schools segregate children by age, but homeschooled kids and teens get more time with a diverse population. As someone who homeschooled one child and kept the other in public school, I noticed that homeschooled kids were more comfortable talking with adults. In carpools, they were just as likely to talk to the adult driver as to the other kids. But in my public school carpools, apparently I became invisible after a few minutes.
Homeschooling sounds weird because it's unfamiliar.
But here's a way to think about that, as I've written before. Suppose you'd only eaten carryout and in restaurants all your life. Cooking at home might sound crazy: planning, shopping, cooking, washing up.
Homeschooling is like home cooking:
more work,
often better quality,
more attention to your child's particular needs, and
more attention to your and your child's preferences.
Want to take a field day to go rock climbing, help in a political campaign, hear a symphony, go hiking, attend a rally, compete in Junior Olympics? Go!
Like home cooking, homeschooling can be more satisfying to the cook and those who eat. There's a satisfaction in crafting a good supper for your family, and a good course for your children.
And like home cooking, not everything in a homeschool has to be done from scratch.
Curious? Check out these Resources
I wrote a handbook on how to homeschool kids who learn differently. You can download a free chapter of Homeschooling Your Struggling Learner and get the link to Amazon here.
7 Steps to Beginning to Homeschool
*With this narrowed definition, the US Census Household Pulse Surveys in April and October 2020 showed that over the summer of 2020, US homeschooling more than doubled.
Homeschooling in Virginia: How to Begin
How Deschooling Can Help Your Child Recover From Painful School Situations
When Family Objects to Homeschool
Choosing Homeschool Curriculum for a Child with Special Needs 
This post is excerpted from a workshop I gave the Northern Virginia/Washington DC chapter of CHADD (Children and Adults with ADHD). You can view the workshop here or below. You may want to subscribe to their YouTube channel.
Send me a question using the chatbot (blue bubble in the lower right corner of my webpages.) Leave a comment with your favorite resources. Thanks.
No Comments Yet