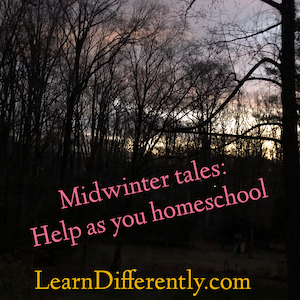 by Kathy Kuhl     Stories matter. As I talk with you, hearing your homeschool stories is my privilege. I'd love to sit with you and find out how you're doing. These are not easy times to help students who learn differently.
A part of my story is that I'm home, instead of meeting you at conferences. But I'm creating new resources for you through workshops and interviews I give. And I'm giving more private consultations, so I hear more homeschool stories. Thanks!
Since we have children who learn differently, our homeschool stories differ. But across the country, parents are seeing the benefits of customized home education. Because each family and each child is different, the situations vary, but there are some common threads. One is:
"Homeschooling rocks!" — The benefits of customized education
One mother of a talented dyslexic student wrote:
Things have been going great. I realized that I needed a lot of time to figure out where my daughter is at academically! 

It is all over the map! She understands algebra but doesn't know shapes! She cannot tell you the difference between state and city but read Allison Weir and Antonia Frazier history books on audio. 

The school told me she couldn't read at 2nd grade level, but now her reading tutor says she is fastest reader on grade level she tutors despite dyslexia! 

I know once things get settled out, I will need help figuring out what next steps are as we enter into middle school years. 

One thing is clear: Homeschooling Rocks! 
Like all of us, this mother also had frustrations:
— scheduling complex days and weeks, balancing therapy and instructional time and time for her daughter to develop her talents,
— selecting supplemental materials, tweaking curricular choices, and like so many of us
—wondering if she was doing enough.
When we met again by phone, I was able to help.
Even parents who think homeschool isn't for them see the advantages
After discussing how to help another parent with a gifted child with ADHD manage online school,  I checked back in some weeks later:
Oh, it's going ok. It is crazy hard to try and manage it all and work full time.  We've ended up hiring a friend to help for 30hrs/week…. I am not at all temperamentally suited to doing any sort of teaching!

…. The good has been seeing my son improve on math and writing. His confidence is improving. Our friend is also able to work with him one-on-one going through his work and improving skills around ADHD management. 
Homeschooling is like home cooking: more work, but often healthier.
Less expensive options
Both those parents hired helpers. But what if you can't afford to?
Experienced homeschoolers may be willing to tutor or swap childcare.
If dyslexia specialists and others with special education training are too expensive, they may know specialists in training who can offer some help at cheaper rates, or even free. (Trainees are required to complete practice hours before certification.)
Similarly, graduate school special education programs may have students who need to get volunteer hours. On one SPED Homeschool podcast, Amy Gordon Stokes described how she outsourced much of her homeschool and therapy for a child with significant disabilities this way. She developed a partnership with the special education department of a local university. (Link below.)
Several parents I know realized it was cheaper to be trained in teaching dyslexics themselves, rather than to hire those specialists for many years. See below for a link to my article about finding this training and the different types available. Other students don't need the specialists, just specialized curriculum to help with dyslexia.
Grandparents and other relatives can help. Even if they are not fans of homeschooling, extended family members can read aloud to a younger child (onscreen or in-person) while you work with an older child. If older relatives and neighbors talk with their grandchildren about historic events or special shared interests, such as nature study and crafts, they free up your time to focus on another child.
If you can, join a pod or bubble for shared lessons, or even just for playtime. Community helps – and it's worth looking for.
Finding support
We know we need helpers. But we also need support. People to talk to who listen to our homeschool stories, understand our situation and can empathize and offer suggestions and encouragement.
Where to look? Local homeschool groups are mainly virtual in some places, and you may not be in a place where in-person gatherings are wise or permitted. But check with your state homeschool organizations. They can help you find local groups. Get on their mailing lists if they sound promising, so you'll stay informed.
Meanwhile, how do we find good groups online? I'm a fan of SPED Homeschool (and former member of their advisory board). SPED Homeschool has private online groups on The Jump as well as weekly podcast/Mom's nights.
Connect with peers online through The Jump, Facebook, MeWe, and other online groups. To find a good group, search for "homeschool" + your child's learning challenge.
I've blogged before about finding support, so check the link below. Also, you may write me. Tell me about your student and perhaps I can make some suggestions. People and their needs vary, so I'm connected with dozens of  groups I can recommend.
Sometimes we need advice
I give free private consultations. Sign up using the blue bubble, lower right of any page on my website.
Online support groups give you a group of people to ask for advice.
But weigh advice carefully, mine or anyone else's. "On the internet, no one can tell if you're a dog," said one famous New Yorker cartoon. You also can't always tell if they are foolish or dishonest. But the Internet is a source of ideas.
What lessons have you learned homeschooling this year? What advice do you have for parents in their first winter of homeschooling? What helps you get through the midyear doldrums? I'd love to hear your homeschool stories.
Resources
Training in helping dyslexic students and specialized curricula for teaching dyslexic students to read
SPED Homeschool has many resources. They host Moms' nights with discussion following their weekly free webinars. Also they host private regional groups, "tribes," on The Jump, a social media platform. Contact them for information.
Amy Gordon Stokes discussed outsourcing some of her homeschooling for her  "Homeschooling as an Administrator Instead of Teacher" on SPED Homeschool's podcast. The conversation includes COVID precautions for bringing in homeschool help. This is one of many good stories to learn from on this podcast.
My posts on finding support are here and here.
No Comments Yet