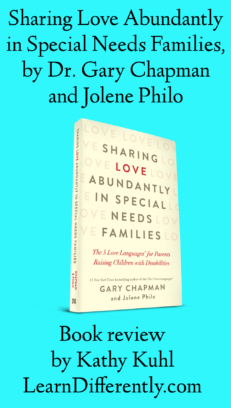 by Kathy Kuhl     Review of Sharing Love Abundantly in Special Needs Families: The 5 Love Languages for Parents Raising Children with Disabilities
Having a child with special needs is a blessing–and hard work. Our kids face different challenges. One child has trouble reading, another sitting still, another integrating what comes in through his or her senses. Others may struggle with physical challenges, including writing, talking, and even walking.
Whatever the hurdles, the strain of helping children meet them can strain family relationships. Parent-child, child-sibling, husband and wife: all these relationships can be affected.
What can help? Understanding how to communicate love better in each relationship.
Five Love Languages
If you're not familiar with "love languages," it may sound cheesy. You've probably heard it joked about: "Chocolate is my love language." (As a matter of fact….) But this is a practical framework for thinking about what makes individuals feel loved.
As you many know, Dr. Chapman says that different people sense they are being loved by different means. Each person, he says, has one "love language" that speaks to them most strongly.
Words of affirmation
Quality time
Receiving gifts
Acts of service
Physical touch
In Chapter One, the authors explains these love languages. They include a  survey to help you determine which love language makes you, your spouse, and your children feel most loved.
For example, if your heart is most warmed by your spouse changing the oil in your car, getting groceries, doing laundry, "acts of service" is the love language you most respond to.
This is good to consider with people of any age.
When my daughter was 19 months old, we drove to three hours to spend a few days at the beach in Delaware. If you've taken a toddler to the shore, you know how much work it is. Before the week was over, I realized she enjoyed the white gravel driveway at the beach house just as much as the sand and surf. If we'd gone to the beach just for her, it would have been a waste of time and effort. (But it wasn't. We went mainly because I love the beach.) As our kids grow, their tastes mature, and the need to consider what speaks to them becomes an important way to nurture our relationships.
Why read these authors?
Jolene Philo has raised a child with disabilities and knows our situation and our struggles. She is the author of A Different Dream, and Does My Child have PTSD?, which I reviewed here. Jolene teamed with Gary Chapman, Ph.D., to write this book. They based the book on Chapman's theory of the five love languages and many conversations with parents of special needs.
Knowing Jolene and appreciating her earlier work, I agreed to accept a free advance copy of the e-book. After reading it, I wrote an endorsement and volunteered to review it. Why? I think it will help you. I also received a paperback copy that I'm giving away, but no other compensation.
This book is also now available as an audiobook. 
Why a special version?
If you've already read another of Dr. Chapman's books on love languages, do you need this? Perhaps you do: this was my first encounter with his "love language" theory. Here's what this book includes:
insights and stories from dozens of families with children with challenges,
how these concepts can strength your marriage while coping with a child who learns differently or has special needs,
integrating love languages with theories of attachment categories and of cognitive development,
how love languages apply to siblings of children with challenges and help us love them better,
ways that extended family and friends can apply these principles to better support your family,
how you can pass along this information to medical and mental health professionals who treat your child to improve effectiveness of their therapies and treatments.
Giveaway
Update: Thanks to everyone who entered by leaving a comment below or using the contact form by Valentines Day, February 14, 2020. Congratulations to Mia, our winner. I plan to give more books away this year. Subscribe to this blog with the form on this page, and you don't miss out.
Love your neighbor as yourself means…
This book encouraged me to think about the Golden Rule. Loving your neighbor as yourself doesn't mean I buy my husband, son, or daughter what I'd like for myself. It doesn't even mean I buy them a gift: they might prefer words of appreciation, or spending time together.
Love means pondering what's good for them and what's meaningful to them.
So I recommend the book Sharing Love Abundantly in Special Needs Families. Please comment below about the book. Thank you.
15 Comments