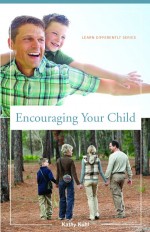 By Kathy Kuhl
How do you help your children keep going despite setbacks? What's the best way to use rewards and treats? How can we avoid accidentally discouraging kids? How do we train our kids to become adults who will encourage themselves when times are hard?
In my new book, Encouraging Your Child, you'll find these answers and more. Short and practical, this book will help you encourage your children.
Want to sample before you buy? I wrote a four-part blog series on encouraging your child, which will give you some of the flavor of the book. Here are links to:
Here's a bonus for those of you who buy the book by February 28, 2015 — a free study guide. You'll need to save your email receipt, and follow the directions here to pick up your gift.
Thank you for your support and encouragement. I have two free copies available for blog readers who would agree to review this short book on Amazon before the end of February. To enter, comment below.
Thank you for your encouragement!
No Comments Yet