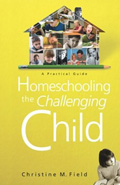 Review by Kathy Kuhl
In Homeschooling the Challenging Child, Christine Field provides a useful guide for parents of children with learning or attention difficulties, strong wills, and other personality traits that make homeschooling harder. Field, a trial lawyer turned homeschooling mom who homeschools her four very different children in Wheaton, Illinois, wrote a well-organized and clear book.
What's in this book
After beginning with a few examples of the varied needs of our challenging children, Field discusses the advantages of homeschooling: building the child's confidence, and providing the opportunity to customize teaching style, learning environment, and content to suit the child's needs and gifts. She clearly explains terms, types of learning disabilities, the laws concerning learning disabilities, and kinds of attention deficit disorders. Her chapter on attention disorders includes cultural factors, diagnosis, and "solutions:" treatments and adaptations. In chapters five and six, she considers various ways of categorizing personalities and learning styles, because personality and learning style clashes can make homeschooling a challenge. After some helpful thoughts and suggestions on discipline, comes chapter 8, Field's look at caring for self, siblings, and marriage while homeschooling. Chapter 9 is a good introduction to planning a homeschool program, while her last chapter addresses getting help from professionals. She concludes with a lengthy and valuable discussion of resources.
Field's tone is encouraging, practical, and down-to-earth. She admits struggles and failings. Field surveyed many homeschooling families, whose stories and quotations enrich the book with a variety of challenges and solutions. She also frequently quotes the Bible, which she finds a source of strength in this difficult task. A regular theme of the book is that God enables parents who rely on him to cope and care, despite their frustrations.
Homeschooling the Challenging Child is a helpful and encouraging resource for those starting or continuing to homeschool a child with learning or attention difficulties. The clarity and organization with which she defines terms, explains disabilities and disorders is her greatest strength. Her practical suggestions and resources on working with public school personnel, caring for "Mom, Marriage, and Siblings," planning a program, and getting professional help make this book one worth owning.
Want to learn more? See the link below:
Click here to learn more or order a copy of Homeschooling the Challenging Child on Amazon. Thank you.
No Comments Yet