Manage tasks with less stress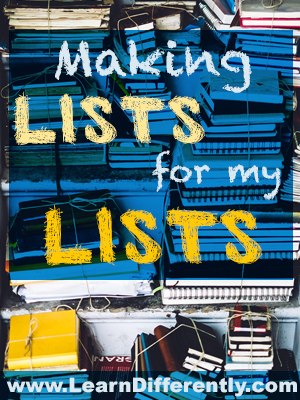 By Kathy Kuhl     If you homeschool kids, you have a lot to manage. But when you homeschool a child with learning challenges, special needs, and/or giftedness, you don't just need lists. You need sub-lists, lists that repeat, lists to save for next year. Some of us have distractible kids, and some of us are distractible ourselves. How do you cope?
I've tried many different planning strategies and want to share what worked best for me.
Try a variety of tools
A letter size pad was my first organizer. I made a new page every week.  I wrote columns for jobs related to the home, for errands, for reading, for letters I needed to write. Stuff I knew I wouldn't get to this week went to the bottom of the page. If nothing else, I'd look at it again next weekend, and eventually I either deleted those jobs or promoted them to this week's jobs. 
Those lists evolved into different sections of a small, six-ring binder that fit in my purse. I included a Week-At-a-Glance calendar in the binder.
A separate 9×12 inch teacher's planner held my homeschool plans. Those soon moved to the computer: a table in Microsoft Word with columns for weekdays, and rows for subjects, so I could copy, cut, paste, and didn't have to erase.

As my son grew, we got him a planner. He picked a DayTimer. He helped me gather lists of assignments from his Spanish teacher and other coop teachers, together with what I'd assigned. With his handwriting struggles, I took dictation for him, but made him figure our what was do first and estimate how long each task would take.
Now our nest is empty, but I'm still managing tasks for family, the household, a homeschool co-op  I help lead, and, for this business, writing, publishing, consulting, and speaking. I've continued to experiment with organizational approaches to find one that works for me.
Organizational Apps
There are many good organizational apps for computer, tablet, and phone. I've tried 2Do, and some others. But Nozbe is an app I love and have been using for years. If you're managing lots of tasks–such as homeschooling while working, managing multiple therapies for your child, or running a support group–you may like it. It syncs on smartphone, tablet, and computer, so you can check it and add to it easily, anywhere.
Every task you enter in Nozbe can:
have a due date (and even a time) which can ping me a reminder, or not,

be starred or not (to indicate priority),

be moved into one of your lists, which are called "Projects." I've got separate projects for paying bills, for household tasks, for personal tasks (doctor's appointment, exercise, cards to send, etc.) for our support group, and so on. 

Marked to repeat every day, week, month, or year, (monthly church potluck, quarterly oil change, etc.),

Tagged with one or more categories. Categories are types of task, like phone call, errands, home, email. You can make up your own categories, too. Then you can look at one kind of tasks all at once: like all your errands. 
I love being able to pull up all my errands while I'm out and see that I need to exchange a shirt (a task in my "personal" project) and buy snacks for the support group meeting (a task in my "support group" project).
In a rush? Just enter a task without assigning it to a project, and it will go into your "inbox." When you have time, put it in a project.
Save time on recurring projects
When I was a young mother, I made a tickler file: a small stack of index cards with tasks that needed to be done quarterly, monthly or annually (clean the fridge). I kept them in a file box, with monthly dividers. When I finished a task, the card when into the back of the file box. Then I got busier and needed a new system.
Now I really save time in Nozbe on repeated projects. Take Christmas or travel, for instance. A few years back I put everything I ever do for Christmas on a project named "Christmas" and saved it as a template. Now every fall, I use it to create this year's Christmas "project," that is, my list of everything I want to get done by December 24. I look it over, add special tasks for this year, delete the stuff I don't want to do this year, and add due dates.
For travel, I've created another template. It lists everything I ever have to do for trips—pay bills ahead, ask my neighbor to watch for packages, plan the route we'll drive, or get a ride to the airport, etc. I love pulling out this old, complete list as a starting point. It's much easier to delete unnecessary tasks than to try and remember everything. 
David Allen says: "Your mind is for having ideas, not holding them."
As homeschool moms, we have to hold a lot of ideas in our heads. We don't have assistants–not until the oldest child is big enough, anyway! (Thanks to my son for telling me when I was planning too many errands.) Tools like these can help.
In Nozbe, I can just look at one "project" list, or all at once. I can set it to show me just what I have do this week, or today, or next week. It makes my lists manageable.
You can try Nozbe free. But if you upgrade to the paid version, which lets you have more projects, you can get 10% off and support LearnDifferently.com's pro bono work by using this link.
Paper Journals
Even though I love Nozbe, I still carry a journal. If I've got a cool electronic tool, why don't I abandon paper? Here are a few reasons:
Copying some of my lists manually helps me think through them and consider what's important.

Writing out what I want to do this week helps me see when I'm being unrealistic. It encourages me to pare it down.

Some lists don't need to be in the cloud: daydreams, brainstorming, personal thoughts.

No electricity is required.

Some times and places you need to jot things down, but you don't have or don't want to use electronic tools.
For my current journal, I've borrowed a few ideas from bullet journaling, including keeping a habit tracker–a chart marking off each day that I practice the new habits I'm trying to develop. I've assembled my custom journal with my own two-page spreads for each week, another spread for this month and next, and plenty of lists in the back.
Pinterest and Youtube gave me many useful suggestions for bullet journaling. But you have to know yourself. If I tried to make it pretty, I would get sidetracked. Using 12 colors would be fun, but I'd fiddle with them instead of getting on with it.
I drew out the two-page spreads by hand and printed copies on a heavier paper that my favorite pen (uni-ball Vision Rollerball fine point) won't bleed through. I bought a Midori journal to keep my lists, reading notes, and miscellany in the back—everything from notes on planning the baby shower, where to stay when I visit relatives, goals for the year, to ideas for workshops to give. The Midori paper feels good and pens don't bleed through easily. The bullet journal approach gives me a lot of control over the contents of my journal.
What helps you?
Experimenting with different approaches, I started with simpler methods. Electronic tools help me track repeating tasks, and view lists from my phone, tablet, or laptop. Copying the current week's duties in a sturdy notebook with a comfortable pen make me think through what I'm doing.
I've been looking at productivity ideas to see what can help us manage homeschooling better. What would you recommend?