Help your child love books despite dyslexia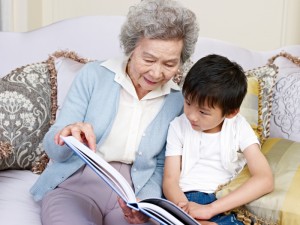 by Kathy Kuhl     Children and teens who struggle with reading can still love books. How can we help them have a rich literary life?
Though they will read fewer books than typical readers, we can still fill their minds with great stories, deepen a love of words, build their vocabulary, and enjoy the pleasures of word play with them.
Reading aloud together is my favorite way to accomplish these goals. Other suggestions are in the notes.
What to read aloud to help your child love books?
What did you like to read as a child? What did you enjoy being read to?
If you weren't read to as a child, or can't remember, ask a librarian. Look at the Caldecott and Newbury winners (though not all are good), or great lists of books like Jim Trelease's The Read-Aloud Handbook.
For younger children, and young-at-heart teens, also look for illustrators they enjoy. As a child, my son would study and compare illustrations the way I compared authors in college literature courses. His favorite edition of Dickens' A Christmas Carol, for example, is illustrated by the delightfully fanciful Quentin Blake. See which illustrators your child enjoys, and look for more.
Pay attention to whose work your child enjoys, and what style. When my son was little, gentle fantasies appealed to him, like:
Harold and the Purple Crayon by Crockett Johnson
Hugh Pine, the porcupine who learns to talk and walk upright and befriends a curmudgeonly man.
My Father's Dragon, about a boy who runs away with a cat to rescue a baby dragon. (Newbury winner, 1949.)
Ronald Dahl's books, though darker, also appealed to him. (He reports that the film the BFG is very faithful to the book.)
When to read aloud?
Start young. From infancy my children and grandchildren learned that books are a way to get an adult's attention. Once upon a time, our highly distractible, active toddler would signal his wish to be read to by swinging a book–thonk!–into the nearest adult lap. He didn't linger, but we enjoyed the reading, after recovering from the blow.
While you can't always read a whole book to tiny ones, they'll learn to associate the "reading voice" with comfort and security of your lap.
You can always nurture that love for books by engaging them, asking, "Where's Lowly Worm?" so they can practice pointing. Or you can let them point, and you name things. (This is why I like Richard Scarry's books.)
While reading Good Night, Moon, a friend made a game of nonchalantly slipping his hand over the mouse, who is in a different spot on every page. His small daughter would quickly nudge his hand out of the way to see the mouse.
Memorable? Quotable?
Good children's literature often has humor, word play, rhythm, or lyrical quality that sticks in our minds. We find ourselves quoting some favorites:
"Have a carrot," said the Mother Bunny," after the baby bunny decides not to run away. The Runaway Bunny by Margaret Wise Brown.
"The great grey-green, greasy Limpopo River, all set about with fever-trees," and other bits of silliness from Kipling's Just So Stories.
"Tut, tut. Looks like rain." A.A. Milne in Winnie the Pooh. 
What are your favorites to read aloud to help your child love books? Please reply in the comments below.
***** Notes*****
According to research cited in Nicholas Carr's book, The Shallows: What the Internet is Doing to Our Brains, people recall more of an article if it doesn't include embedded hyperlinks. So I moved mine here.
The Yale Center for Dyslexia presents ways to help dyslexic students build vocabulary.
Jim Trelease, The Read-Aloud Handbook,  great list of suggestions with synopses.
Charles Dickens, A Christmas Carol
Crockett Johnson, Harold and the Purple Crayon
Hugh Pine, first of a series by Janwillem De Wetering 
My Father's Dragon, first of a trilogy by Ruth Stiles Gannett
Richard Scarry, The Best Word Book Ever 
Good Night, Moon by Margaret Wise Brown  and The Runaway Bunny
Just So Stories by Rudyard Kipling (Preview these; in some he is condescending to non-English people. But my favorite, "How the Elephant Got His Trunk," is pure animal, and hilarious.)
The Complete Tales of Winnie-the-Pooh, by A.A. Milne 
Thanks to Dolly Myers for sharing this list of 20 quotes from children's books, which inspired this post.