New research in preventing crib death (SIDS)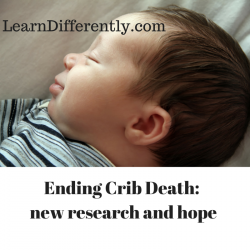 By Kathy Kuhl
Dr. Daniel Rubens, an anesthesiologist at Children's Hospital in Seattle, has been pioneering a new technique to identify babies at risk for crib death, or SIDS–Sudden Infant Death Syndrome.
According to the Seattle Times, Dr. Rubens became intrigued reading a Rhode Island Department of Health study showing inner ear damage in babies who died of SIDS. He hypothesized that such damage may be linked to the ability to stir and reposition oneself when not getting enough air. He hopes to develop a simple hearing test to be given at birth to spot babies at risk.
The Seattle Times reported that:
… [the] study found that in a test group of 31 babies who died from SIDS, all scored lower across three different sound frequencies in the right ear. Babies without the hearing malfunction survived.

The one post-mortem of four babies who died from SIDS found that all had bleeding and extensive damage in their inner ear.

Rubens re-created that condition in lab mice. "And the animal is at risk of an exact, SIDS-like event," Rubens said. "The more I look at this, I see it's correct and we need to see this through."
Dr. Rubens has been fundraising to test his hypothesis and develop a test. Learn more and support Dr. Rubens' research at The SIDS Research Guild.
(This might look off-topic, but if Dr. Rubens is right, SIDS is caused by a disability. Certainly crib death is something many of us care about. I've been traveling, speaking in Washington and California, and enjoying my favorite baby, my granddaughter. Back to work next week once the website is back up. Thank you.)