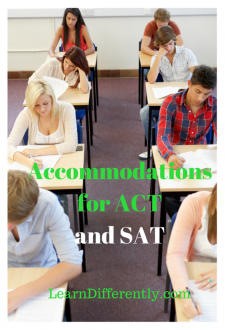 Years ago, I wrote about our experience getting accommodations for the SAT. I included advice from Judy Fulton.
New Resource
In October 2018, Jennifer Mauser wrote about her experience in 2018 on the IEW site. [That article is relevant to all who homeschool students students who learn differently, not just users of the Institute for Excellence in Writing (IEW).] She also discusses the newer CLT, the Classical Learning Test.
You have have heard the ACT can be better for students with learning disabilities than the SAT. Forbes Magazine published "Three Reasons Why You Shouldn't Take the New SAT," but take the ACT instead.
Another parent's experience
A mother in Virginia described her experience requesting accommodations for the ACT. She writes:
My daughter has dyslexia and a cluster of other "disorders." We had heard from several sources that ACT is much stingier with accommodations than College Board/SAT. We had already received time-and-a-half accommodations from SAT.

Before sending in our request for special testing accommodations (one test section per day during a 3-week window, administered by a school official), I spoke with the ACT accommodations department twice so that I could more fully understand their process and what it means for a homeschooler.

Both representatives were very nice and helpful. I sent in the full twenty-page report from my daughter's neuropsychologist, marking sections I believed would be of particular interest.

I also created a chart showing the time estimates given for planning purposes for each section of the annual Stanford test compared with the actual time it took my daughter to complete each section. This piece is crucial to show the kind of accommodations "regularly used in school."

Use your phone

Although I had called for advice about the application process, our application confused them because I included applications for special testing as well as for simple extended time, which was the advice I received in case they denied the more generous one. Evidently the cover letter explaining exactly what I was doing and why got separated from parts of the application. I received an outright denial by mail on Friday with a confusing explanation.

When I called Monday morning, I spoke with a very kind woman who retrieved our application, requested a second look, and told me I should hear back within 24 hours. The reviewer called me later that day, and I was able to explain the whole story.

At this point, I cannot predict whether others will have the same experience. Because of what I had heard about this process, I had enlisted several of my prayer warrior friends to be praying with this in mind: "The heart of the king is in the hand of the LORD like rivers of water; he turns it wherever he wishes." Proverbs 21:1.

As I was speaking with the reviewer, she simply asked me which accommodations I would prefer. (What?!?) When I said special testing, she replied, "Ok." I believe God moved in a big way. ACT gave us more generous accommodations than the SAT even though I sent them the same documentation.

Her conclusions

What I can share is that:

documentation is important, both the specific diagnosis and accommodation recommendations from a specialist and
a demonstration of how those accommodations are actually carried out within the homeschool setting. For those who know they will be seeking such accommodations, I recommend creating a chart like I did as well as including
a statement regarding the extra time or other accommodations used in everyday homeschooling.
A phone call before sending in the application is also helpful to understanding the process.
Finally, one must be prepared to call if a denial is received. It was great to be able to speak directly with the reviewer.
Your ideas
Got advice for others seeking accommodations on the ACT or SAT? Post in the comments below or use the contact form. Thank you.
No Comments Yet