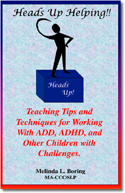 Review by Kathy Kuhl:
Heads Up Helping: Teaching Tips and Techniques for Working With ADD, ADHD, and Other Children with Challenges

Melinda L. Boring is not the least bit boring. This homeschooling mother of three and speech pathologist has written a book filled with practical advice for teaching struggling learners. Her writing is clear and easy to read. Her years of experience raising two special needs children and her positive approach make this book a help to homeschooling parents.
She begins with her own story: "When I gave birth to my first child, Joshua, I felt I had prepared as much as I possibly could in order to be a good mom." But she and her husband Scott discovered that their bright, active, inattentive son required much more than they expected: more time, more energy, and more creative thinking. In chapter one, she quickly traces their family's story through the birth of Josh's two sisters, her initial suspicions that Josh had an auditory processing problem, and their struggles helping Josh deal with the stimulation of group activities. In chapters two and three, Melinda explains her initial resistance to homeschooling, how she began, and their efforts to understand Josh's difficulties.
Tips organized by learning problem
The bulk of the book is organized by learning problem: auditory distractibility, visual distractibility, sensory issues, social skills, daydreaming, fidgeting, and many more. Each chapter addresses one difficulty, beginning with anecdotes from her family life illustrating the problem. After a clear, brief explanation of the difficulty and any technical terms she uses, she gives many practical tips for working with or around the problem.
Melinda's approach is one of the book's great assets. She appreciates her children's strengths and she does not give up. She is creative about trying different solutions and is honest about what did not work in their family. Particularly helpful is her tendency to consider her own learning style in contrast to her children's, because she demonstrates the thoughtful, observant approach all parents should take in teaching their children. She combines these traits with a good sense of humor.
Other Help from Melinda Boring
I also recommend Melinda's other resources. She is the owner of Heads Up!, which provides "expert information and products for special needs children." The Heads Ups! booth was one of the busiest at the CHADD's huge conference, because of the great selection of books, tools, and toys for helping children learn. At her website, you can browse and purchase online or by mail.
Melinda is also a fine conference speaker. In November 2009, at the annual international conference of CHADD (Children and Adults with ADHD), I had the privilege of presenting with her. She is a columnist for The Ohio Home School Companion magazine from CHEO (Christian Home Educators of Ohio). Reading or listening to her words, I could see she wants to help other parents and teachers, and she does a good job.
Click here to order Heads Up Helping! on Amazon.
1 Trackbacks/Pingbacks
Pingback: Learn Differently | Is your child time-blind? on April 21, 2015