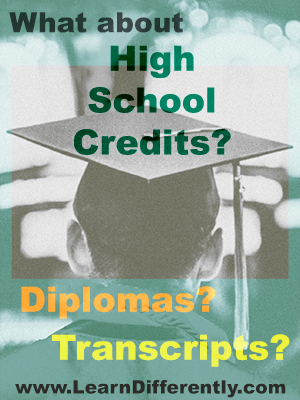 By Kathy Kuhl          When I speak on homeschooling high school students with learning challenges, parents often ask: What about transcripts? How do I decide when and whether to give a diploma?
Often, I receive some version of this question, which came up on a Facebook group recently:
Do you ever worry that your student will not be able to do the work of high school EVER and then think they probably won't pass GED no matter how hard they try? I'm just trying to figure out options for my son's future and not seeing any at the moment. He has FAS [Fetal Alcohol Syndrome], which affects processing and retention…. He reads at 4th-5th level….
While most of you don't face such severe disabilities, some do. Perhaps you know someone who thinks he or she cannot homeschool a teen because these problems seem insurmountable.
They are not. Homeschooling is a great option for students with disabilities. Parents can creatively customize an education around a child's talents as well as their needs. For instance, parents can tailor curriculum and activities around a teen's interests. Families can integrate therapies into the day, rather than tackling them after school when everyone feels tired.
Awarding High School Credits
High School Credits, or Carnegie Units, are typically awarded for completing a course of 120-180 hours of work, or completing a textbook, or completing a course from an accredited program.
When a student cannot do standard high school level work, you can still award high school credit. You may award credit if the student has a documented disability and meets other criteria. Public schools do this for disabled students. There is no reason homeschooling parents cannot. Keep reading to learn more about this and other approaches.
Four Options
Before modifying the content of a course, you have other options.
Modify how you teach:

shorter lessons, more hands-on materials, and more field trips than in traditional schools

—just to name a few.
Provide accommodations

for your child's areas of weakness. There are hundreds of ways to do this. Some examples:

Provide word banks at the top of a fill-in-the-blank quiz, for a student who struggles with word retrieval. (Make it more challenging by having more words than there are blanks.)

Assign more oral presentations and powerpoints and fewer essays for the dysgraphic student.

Break difficult tasks into chunks. For example, students struggling with organizing their writing could only produce outlines for their first few essays, to improve their outlining skills.

Use high-low textbooks, which provide high-school level content written at an easier reading level. For instance, we used Exploring World History by Globe Book Company (now Globe Fearon, a division of Pearson).


Provide audio books or text-to-speech software instead of assigning only silent reading.

Teach your student to use dictation software and other assistive technology. 

Change the subjects you teach: consumer math instead of calculus, for instance. You may offer or outsource courses in electronics, fine arts, drafting, business skills, computer-assisted design, and auto mechanics. This can be a good alternative to the standard college prep program of four years of foreign language, mathematics, science, history, and English. (HSLDA has very good resources on organizing your high school courses. See below.)


Finally,

you can award high school credit

when the high school age student is performing below high school level.HSLDA's special needs consultant Faith Berens explains this well in their

Homeschooling Your Struggling Learner Newsletter,

April 14, 2011:




Struggling students, as well as functionally disabled students, are given high school credit and graduate from public high schools all the time. Therefore, in special cases, one should apply similar criteria to homeschool students who have a documented learning disability. For example, if a 10th-grade student is capable of doing only 6th-grade-level math, and that is truly his or her capacity according to the other conditions noted below, then he or she may be awarded a high school credit in math for completing the 6th-grade material.
Conditions for Awarding Credit
Faith continues, "If the student is in the 9th grade or above, and…
has been diagnosed as having a learning difficulty which has a documented history, and…

is performing at or near

his or her

capacity for learning in that subject, and…

is showing that this year's work is a progression from last year's work, and…

has completed all of the requirements of the course to the satisfaction of the parent, and

the work (or number of hours) have been documented to your satisfaction (120–180 hours)


then that student should be granted a high school credit for the course."*
More recently, Faith answered all these questions in an interview on HSLDA's Homeschool Heartbeat broadcast. I've linked it below.
Start Work on the Transcript Early
Whenever your child starts high school level work— even if it is in eighth grade or younger, you need to start saving information for the transcript you will write later. Save course descriptions of classes your student takes outside the home. Save titles, authors, and editions of textbooks you use. Make careful note of all your science classes with labs. Even if you just throw all this in a folder—in your desk or on the cloud—you'll be glad you did when your child is in eleventh grade and you've got a transcript to produce.
I suggest you get Janice Campbell's Transcripts Made Easy. Writing a transcript isn't hard. You just need some guidance.
Which resources have helped you determine how to award high school credit to a struggling learner? I'll share a few more below. Please add yours in the comments section.
Resources
No material connection: I get no benefit from your purchases through the sites below.
*Faith Berens, "Homeschooling Your Struggling Learner Newsletter," 4/14/11.
4 Comments