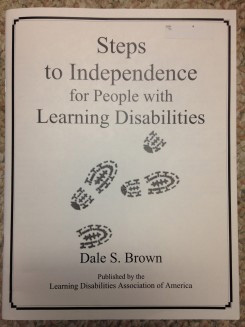 How will you help your child learn to live and work independently? Today I want to introduce you to Dale Susan Brown, a remarkable advocate on working and living independently for folks with learning disabilities. She's an author, speaker, and policy advocate.
If you have a child who has struggled to learn, you may be worrying if and how they can support themselves. My son's quite bright, but I can remember thinking long ago,"My son can't count to 70. Not even McDonald's will hire him because he can't make change."
Well, now he's been working for nearly a decade with a great employer.
Living with Learning Disabilities
I have lots to say about helping our kids learn to work, but one of the most encouraging resources I found when my son was young was the work of Dale Brown. She spoke to GiftsNVA, our local special needs homeschool group, in 2010 and was fascinating to talk to. She has served on the President's Committee on Employment of People with Disabilities in 1979, and was a distinguished civil servant in the US government, retiring after 25 years. She has learning disabilities herself, so she knows these issues from the inside.
She was managed LDOnline.org from 2006-2009, the website on all kinds of learning disabilities, a huge, rich resource.
Free book!
Dale Brown's short book, Steps to Independence for People with Learning Disabilities is available for download free from the Learning Disabilities Association of America, a helpful organization I've found supporting of homeschooling. This book for young adults can help you help your teen. Why not start exploring this now, before your child's an adult.
Dale's larger book, Learning A Living: A Guide to Planning Your Career and Finding a Job for People with Learning Disabilities, Attention Deficit Disorder, and Dyslexia, is regrettably out of print, but still on Amazon.  What tools have you found to help someone with learning disabilities find success at work? Please answer in the comment section below.
2 Comments